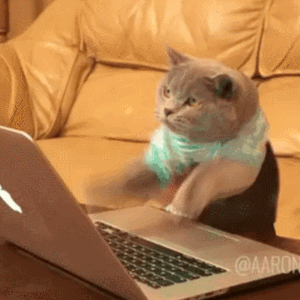 It's been a while since I've done one of these, maybe that's why I suddenly feel like I'm this cat ;p
This past month I wrote the entire first draft of Charming Rivals (16,300 words), did a revision of Glass Slippers, and also wrote, edited, and submitted Hanabi to Kitsune (5,700 words). That's 22,000  brand new words (there's a reasonable number of new words in revision, but it's much harder to track).
After several months and only really scraping together a couple of thousand words and almost the only editing I did was with professional editors for stories I'd already sold, to suddenly slam out 22,000 words and then some in one month feels like powering through.
Now to see if I can maintain the momentum.
For October I'd like to:
Revise Charming Rivals and start getting feedback on it.
Take the feedback from my writers group for the first 5,000 words of Glass Slippers and use it
After the above get feedback on Glass Slippers as a whole and revise
Assuming the above is completed hire an editor and begin the process of professionally editing Glass Slippers
Write the first draft of Nix, Naught, Nothing (the third Charming For Hire story from the Retailored Fairy Tales world
I also hope to find the time to tinker with the new My Book Table 3 plugin which I backed on Kickstarter. I want to check out this 'beautiful page' mode and see how sexy it is 😀
Save