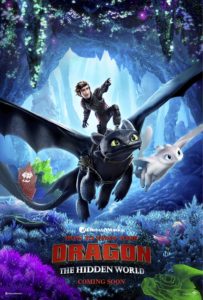 For those who've been around a long time, you may remember my post on how my son, Xander, reacted when seeing How To Train Your Dragon 2 in the cinema. He still sometimes refuses to watch the movie even now, four years later (we have it on blu ray and do watch it every now and again).
So when How To Train Your Dragon: The Hidden World came out down here in Australia, releasing on his birthday, we really wanted to take him, but weren't sure if he'd want to go. After a long fun day of meeting Shaun the Sheep at Paradise Country and shopping for Bendy figurines, we showed him his cinema picture and the movie poster and asked him if he wanted to go. The answer was a resounding yes. We also showed Harley and she became super excited (she and I have been watching the tv series recently).
The kids loved it, and Xander has now grown enough to be able to understand that what he is watching is fiction, that the dragons being tied up and taken away aren't real creatures suffering before his very eyes. You can still see him get tense and worried, but it isn't the near meltdown levels of anguish he would experience before.
It's wonderful to see him grow and mature, and it's also fantastic when certain triumphant scenes happen he claps and cries out 'yay!' in the cinema he's so happy. (and the patrons directly behind us thought it was cute <3 ). Also you should definitely check the movie out.