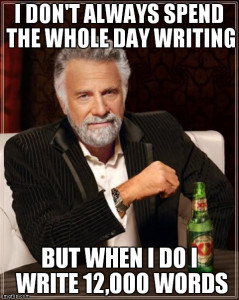 Yesterday I passed the 30,000 word milestone for NaNoWriMo. This was in no small amount thanks to the local NaNo retreat I went on and the 12,000 word day I had on Saturday.
12,000 words! In one day!
Oh man, I wish I had more days where I could sit down and do nothing but write. It makes me want to be a full-time writer even more.
Also, stickers are still an amazing incentive, even in your thirties ;p
Thanks to the Brisbane municipal liaisons and all their effort organising a fantastic weekend.