My March author for the Aussie Spec-fic authors challenge was Kate Forsyth. I read her latest book 'The Wild Girl' because I was lucky enough to win a copy from Kate's blog, she even signed it(gotta love that elite reader feeling you get when you read a signed copy).
The Wild Girl is the story of Dortchen Wild, the girl who lived next door to the Grimm Brothers (yes those Grimm brothers) and told them many of their most beloved stories – even encouraging them when they considered giving up – all in the name of love. But don't go into this novel expecting perfect flowering romance, this is as story with darker realities to it. You can read my review on Goodreads here.
The historical details are magnificent, everything from herbal lore and daily life to the exciting and terrifying times of the Napoleanic wars. Everything has been researched thoroughly and dripped into the book in a fashion where you learn so much without being info-dumped to death.
Also, as an added bonus this month, Kate herself visited one of my local libraries to do a reading to promote her book. She's a great speaker (I've also heard her before at last year's Brisbane Writers Festival) and her life story is actually as interesting as some of her books – so if you ever get the chance do go listen to her. I had her sign my copy of Bitter Greens since she'd sent me The Wild Girl already signed. It was quite exciting for me as well since she guessed I was a writer and (since I'd just got the news the night before) I was able to tell her about my first short story being accepted for publication.
I'm probably starting to sound a bit fan girl-ish, but it makes some sense when you realise I was reading Forsyth and Carmody in my teens, right when I was first getting into fantasy as a genre. These are some of the writers who solidified my love of the genre and formed part of who I am as a writer today, so I figure it makes sense to be a little fan-ish.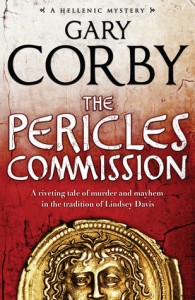 I'm going to be reading Gary Corby's 'The Pericles Commission' for my April read. I've been wanting to get into Corby's books for almost a year now, but the dreaded TBR pile of doom has been keeping me at bay. They are murder mysteries set in Athens in 461BC and I can't wait to devour the first one.