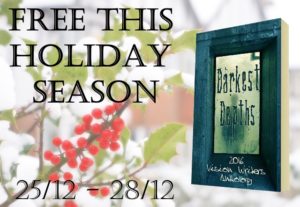 For this holiday season grab two of my stories for free (or even three if you sign up for my newsletter also!).
God's Chosen is my most recently published short story, released in Darkest Depths, and you can get THE WHOLE ANTHOLOGY FREE from the 25/12/16 to 28/12/16. Not just my story but also all the other tales by up and coming Australian authors.
God's Chosen is the tale of Ryn, a young woman born into a modern day cult, and her fight to break free, no matter how badly her peoples' God wants her to stay.
The Troll's Toll, the first of my Retailored Fairy Tales novellas, will also be free. For those not familiar with my Retailored Fairy Tales, they are set in a world where witches will curse you for looking sideways at them, trolls charge bridge tolls(and accept princesses as payment), but you can hire a Prince Charming should your daughter have need of escaping either of the aforementioned predicaments.
As for the story itself: Lilly might be a princess, but she's still the ultimate middle child, lost in a crowd of ten siblings. From his inability to ever get her name right Lilly knew her father didn't care about her, but she never guessed exactly how little until the bridge. Without enough money to pay the toll, he uses her as payment to the troll that runs the bridge. Now Lilly must re-adjust to life as a troll's slave, but the troll is not the worst thing in the forest…
And have a great holidays everyone <3