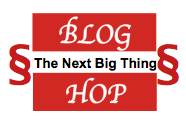 I'm joining in with Mary Tod over at A Writer of History today for her blog hop The Next Big Thing. The writers joining in are all asked to answer a few questions about their current work in progress, so I chose the more recent of my two WIPs.
What is the (working title) of your book?
Key, Clocks and Quests. It is a very rough title, but a step up from the last working title 'Eden and Even' after two of my favourite characters. I often tend to name initial ideas after my favourite characters until a real title comes to mind.
Where did the idea come from for the book?
If I tell you why I spoil one of my twists, so I'll write the next part of text in white, click and drag your mouse over it to select the text if you don't mind a spoiler. There are plenty of other twists in the story I don't ruin.
I wanted to write a story where the quest was handed out by evil people, but the questers themselves are good.
I also really wanted a male lead for once. I'm always writing from a woman's perspective.
What genre does your book fall under?
With 'quest' in the title it's easy to tell my story is high fantasy. I've done some fun world building with this one, lots of chimeric beasts and odd ways for mankind to cohabitate with them.
Which actors would you choose to play your characters in a movie rendition?
This is a little tough, do you go with acting talent or looks? I mean, what's the point of a perfect image match if the actor can't handle the range of the character? A few of my characters are very unusual (like the Captain of the King's High Guard with only one arm). The only characters I can match to looks and talent actor-wise are these three:
I can see a slightly younger Danny Trejo doing a great job as Dirkhart (my bad ass princesses champion) in fact now I've thought of it he's perfect, he's got the looks spot on and we know he can do bad ass, not to mention he's generally awesome.
I'd love Matt Smith for my protagonist Hayd. He's a little awkward, but highly observant, and could easily transition into cold and regal when needed. Don't believe me? Watch some Doctor Who. I love Matt Smith, but he doesn't quite look as young as my 19 year old protagonist, not that I'd say no if he showed up at the casting calls!
Cary Elwes would be a damn good Savrant, if it weren't for the fact he has both arms (I'm sure they could fix that in post-production). He's also has that suave cockiness and good comedic timing that match the character well.
That's about all of the great matches I can think of, but I have some very distinct images of the remaining characters.
What is the one-sentence synopsis of your book?
Apprentice knight Hayd joins his master on a quest for their monarchs, but there are more problems involved with the quest than he could ever have imagined, not the least of which is the boy he's fallen in love with.
Will your book be self-published or represented by an agency?
I hope represented, but I have yet to get an agent. Self-publishing isn't off the table, but I would like to experience traditional publishing.
How long did it take you to write the first draft of your manuscript?
It's still being worked on. During NaNoWriMo I managed to get down nearly 60,000 words, but I've still got another 40-60,000 more to go. If I stick to my schedule I should be done by mid-January 2013.
What other books would you compare this story to within your genre?
Good question. It starts out very traditional quest style, like an early Shannara novel (The Shannara series by Terry Brooks), but then I go a bit mental and I must say I've yet to read anything that is like this. One could say you feel like you jump from traditional high fantasy into a crazy manga storyline.
Who or What inspired you to write this book?
Sadly no particular person inspired the book, though the theme of love not being restricted by boundaries of gender or race are born from my affection for my friends who are living that truth for themselves and how I wish the world would be more accepting of this way of life and love.
What else about your book might pique the reader's interest?
The quest is falling apart at the seams right from the start, with the heroes being gathered to take part all falling short somehow, like the most powerful magician being senile so struggling to remember spells. All of the characters should seem vaguely familiar to fans of high fantasy, but each with their own crazy twist.
The world is very interesting, with so much danger beyond each city wall there is little point in racism so I'm working in a multi-cultural world. I've worked hard on creating both the creatures and the way they interact with the humans.
–
Thanks to Mary for including me in the blog hop. I promise to keep anyone interested in the story updated as I progress from first draft to final then publication.