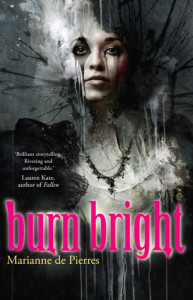 As promised last month, I finished the second and third volumes of Marianne de Pierres' Night Creatures Trilogy.
You can find my full reviews of each volume on Goodreads, Burn Bright, Angel Arias and Shine Light.
My favourite part of this series is the world. I don't know anything like it out there. The cold and restrictive Grave, the way they travel through a crazy vortex to reach the dark party island of Ixion was a great starting taste, but it becomes obvious early on there's much more to the world than just these locations when you start to meet characters from other places who've also come to Ixion, and it isn't just Retra who has more on her mind than simply partying.
T
he books move between Grave and Ixion, and the overall feel of the writing changes as you move between locations, giving you an immersive sense of what that place would be like to be in.
The Ripers are clearly born from the vampyric mythos, but if you are avoiding these books because you know of that (I've got to admit, it's part of why I delayed reading them) let me assure you they aren't your typical vampires, and they certainly don't sparkle either. There is much more to them and a few interesting twists to look forward to.
At first, Retra was a difficult character for me to get into personally. Because of being raised as a 'Seal' she was inclined to not speak up and to hold back, and I struggle to understand when people don't speak their minds, because that is how I am. Even when still Retra however she showed strength, resilience and the desire to protect others. I say 'when still Retra' because part way through book one (SPOILER ALERT (obviously)) Retra experiences a life-changing event and gives herself a new name: Naif. Naif is everything I love in a young woman protagonist: brave, determined, forthright and not one hundred percent sure of herself.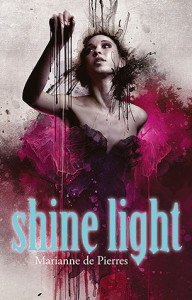 One thing I must add, de Pierres writes amazing action/tension scenes. More the once I found myself clenching my teeth and tensing my muscles while reading the later two of the novels.
Another thing I have to praise is the well-weightedness (not a real term? Well I don't care) of the answers to mystery ratio in these books. Each book poses (and carries-on) questions, and those that most needed to be answered were in that book, while some carried on. I was never left without curiosity, but never strung out to the point where I thought "If she doesn't tell me *insert question here* by the next page I'm throwing this book to the wall!" (which seriously, I have thought about several books). This is a tough thing to get a grip on as an author, to lead the reader deeper into the desert with further questions, but to slake their thirst every so often so they don't pass out on you. I hope I can master the art this well.
Also, the cover fairy certainly blessed de Pierres. I've also learned she recently had these books released in America, so my foreign readers can enjoy them. In fact I actually bought Angel Arias from Amazon (because I couldn't find it anywhere and didn't want to wait ;p ).
I haven't decided just yet what I'll read for July, but I'm leaning toward Fiona McIntosh's The Scrivener's Tale. I'm having trouble deciding because my recent trip to the Lifeline Bookfest resulted in an impressive haul, and a very broad selection to choose from.