Nearly all of my reports for the challenge thus far have been on full length novels but I read a lot of short stories too. I'm subscribed to several different journals and magazines (and intend to subscribe to a few more when I get some spare cash) and thought I'd bring an Australian publication to the forefront. This may kinda be cheating since the authors aren't always Australian, but the whole point of the challenge is to read more Australian speculative fiction, and if supporting an Aussie spec-fic magazine isn't doing that then what is?
Aurealis, has been releasing issues for 23 years. You may be familiar with the Aurealis awards too, these are the people who created and continue to run them. Their contribution to the Australian speculative fiction scene is not to be sniffed at.
The issues come out monthly (except for January and December) and consist of a couple of stories followed by articles and reviews of Aussie spec-fic books and sometimes author interviews.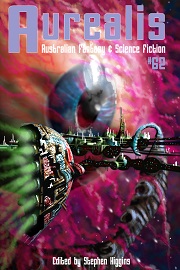 I became a subscriber back in early January with the intent of researching the market (and helping them out since Aurealis wants to become an SFWA approved market and for that they need 1000 subscribers. Which reminds me, help them and go subscribe now!) but have also found it to be a lot of fun to read.
There's a great variety in the tales, ranging from traditional high fantasy style to near-future sci-fi (really, volume 62 case in point). It's also added more than a few books to my 'to read' list – including but not limited to my September read: Midnight and Moonshine.
I've yet to read an issue of Aurealis I've been disappointed in (or put down for anything but necessity), so recommend reading an issue at the very least, or subscribing to enjoy even more and help support the Aussie speculative fiction scene.